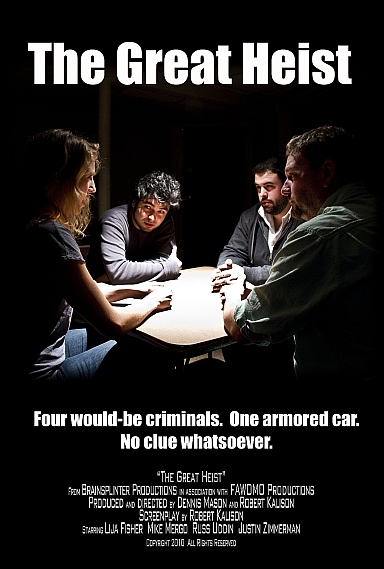 The carefully planned robbery of an armored car begins to unravel when the four conspirators cannot agree on what is a proper Scottish accent.
The first screening was part of the Filmmaker's Forum event at the
Multi Media Arts Center
in Bloomfield, NJ. This was also our first shooting location for the film.   The Great Heist has been an official selection at the following film festivals:
View the trailer. Or a scene from the film.
Produced by - Dennis Mason
and
Robert Kalison
---
Directed by - Dennis Mason
and
Robert Kalison
---
Written by - Robert Kalison
---
Director of Photography - Dennis Mason
---
Edited by - Dennis Mason
---
Production Assistant - Pooja Singh
---
Post Production Audio - Roy Yokelson
---
Gaffer - Matt Rosen
---
Sound Recordist - Michel Mazza